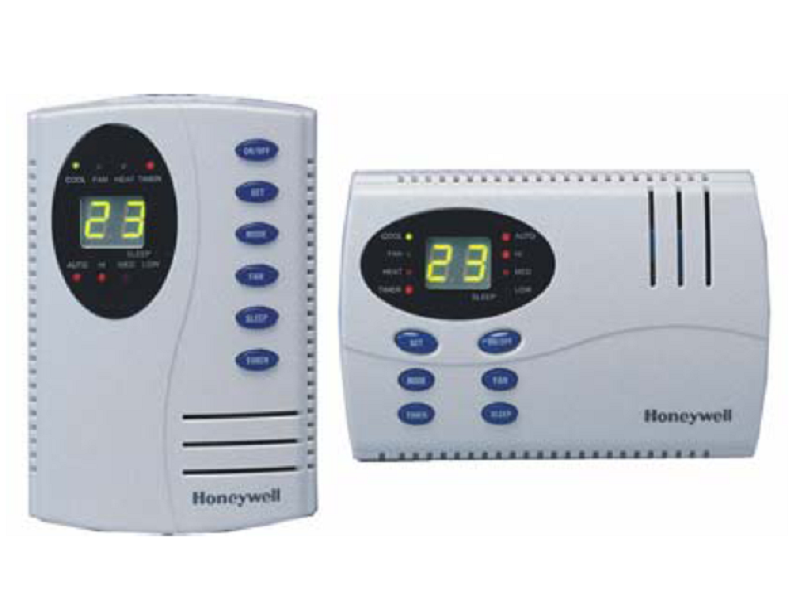 Honeywell T6380 XE80 SERIES
送風機溫控面板
The XE80 digital thermostats are designed for On/Off
control of the valve, or the valve and fan in 2-pipe or
4-pipe application.
The thermostat operates an on/off valve to provide
control at the desired setpoint temperature.
Fan-coil thermostat models are available with
constant fan operation, and have a three-speed +
Auto. fan selector switch with low, medium and high
settings.
Heat/cool changeover operation is also possible on
some versions. This function can be accomplished by
changing the Heat/Cool parameter on MODE switch.
功能特色
• New attractive modern styling design makes the
thermostat harmonized with any interior decoration.
• All in one design, easier to install or service.
FUZZY logic design, easier to operate.
• Easy-to-see LED display
• Vertical/Horizontal panel selectable. Panel plate can
choose among traditional or simplified Chinese
character or English character.
• Heat/Cool mode adjustable. Remote controller of chiller
on all model.
• 3-Speed + Auto. Fan speed.
• Build in 0.5~24H clock for timer power on/off setting.
• Switch Room or Setting temperature display.
• LOCK function: press MODE button 5 seconds into
lock function avoid improper operating.
NICE function: press SET button 5 seconds into nice
function ability to change temperature setting when you
feel comfortable.
• Ability to display temperature sensor failure for easier
troubleshooting.
• Wireless remote controller available.(Optional)
• Suitable for use with Honeywell VC40/VC60 series and
V4043/V4044 valves and compressor starters/relays up
to 2A full load rating